I got a call last Tuesday morning from KTM in Cape Town, the guys were going up to do some training for the Roof of Africa and Eddie didn't want to do all the driving himself. Did I want to go and take some pics. Well Lesotho is such a beautiful country, I spent 6 weeks there many years ago doing altitude training, so of course I said yes. At 2 am on Wednesday morning Eddie and I were on the road in my van, 3 bikes in the back and 3 on the trailer.
The drive through the Karoo was spectacular at sunrise and the early start meant that we were well into it when the sun did come up.
The N1 was a nightmare with so many stop and go roadworks, but once we had crossed the Orange River and turned off at the Gariep Dam heading for Smithfield, we had clear roads and some great photo ops.
Crossing the border at Van Rooyens Nek, I was surprised at the quality of the roads. This was the first time I have been to the Western side of Lesotho, it's a lot more "developed" than Sani Pass where I had previously been.
Lesotho is very dry this time of year but it is still spectacular and for me photo opportunities were lurking around every corner .
We were welcomed at our based camp by Lionel Seydoux, KTM's swiss import whom had been training up there for the past week. The mountains that would be our training grounds surrounded us and hid there treachery with a beautiful sunset.
South African National off road champion Riaan Van Niekerk was also up there for some training but unfortunately for him it only lasted about an hour before he came off and had to head back into South Africa for over 30 stitches to this gash in his elbow. The roads are good here the hospitals… not!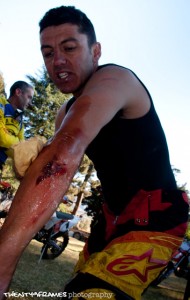 After seeing that Mark was quick to go put on a pair of elbow guards. Our first ride was an introduction into the kind of riding Lesotho offers, amazing single track grass hills and rocky lose mountain passes.
After a fuel stop at Ramabanta we headed up Baboons Pass, I felt like I was going well having dropped my tire pressure at the fuel stop, it didn't last too long as a puncture halfway up forced me to turn around and head back to our hosts small holding. The rest of the guys carried on and by the time they arrived back at camp and the stories that followed I was quite grateful for my puncture.
Instead of hanging around waiting I headed out for my own ride in the afternoon, our host Chris informed me that I could pretty much ride anywhere I wanted, he just recommended taking my GPS so I could find my way back. The ride was amazing, encountering heard boys in the mountains riding through small villages. It's amazing to see how many of these places have at least one tap suppling water to the community and riding past the numerous schools that scatter the country side.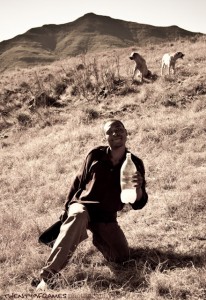 At 7.30 am start sounded early for the following days ride, but after a long days riding and early to bed, we were all up early with plenty of time to do some maintenance on the bikes.
Our ride took us over the aptly named Two Tits pass, coming down the other side was spectacular. Graham nearly lost his helmet down a 1000 meter drop after the wind blew it off his bike when we stopped to take in the view. This was a gnarly descent and the guys were talking of coming back this way. Luckily we were heading for Ramabanta and I was already planning my easy route home.
After Lionel showed us his diverse riding skills, including aquaplaning rivers and riding up the impossible we had a well deserved break in Ramabanta.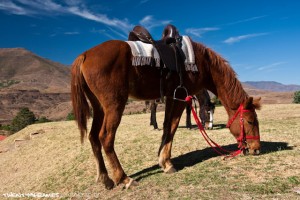 The following days ride was probably the most fun, heading down a small pass known as Music Box heading towards the University town of Roma. We rode some awesome rock trails and fast paths with awesome jumps.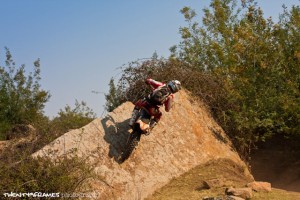 We all refueled in Roma and were heading for Bushmans Nek, another of the most hectic passes in Lesotho. It was incredible to see the respect that the locals have for bikers in Lesotho, there was a Graduation Ceremony at the University on Saturday so the streets were lined with Police every 20 meters, pulling over taxi's, yet they didn't bat an eye to 9 enduro bikes cruising through the traffic.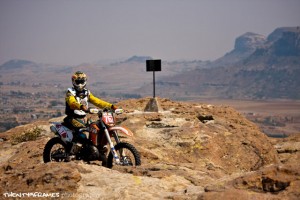 Getting to Bushmen's Nek had some awesome riding, some more rock trails that reminded me of the mountain bike trails I have ridden in Moab, Utah.
Mark got a puncture and our brief stop gave the local kids time to come see what we were up to, they all seem to have learnt how to say "good morning" in english, no matter what time of the day it is. They also took great pleasure in having their pictures taken.
Bushmen's was insanely difficult, I was clutching and boiling the bike and about two thirds of the way up the chain was dislodged for the second time in 2 days. It was only then that the guys told me they were going up and then coming back down the same way. No thanks, after Eddie helped me sort out my mechanical, I turned the bike round and headed down.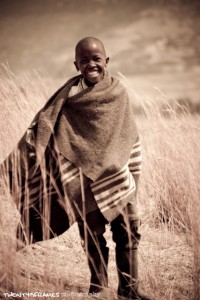 The rest of the ride back to camp had Lionel entertaining and terrifying the local villages with his stoppies and insanely long wheelies.
I'm still amazed every time I ride these bike, by the places they can go, and this trip was the most amazing one yet. Chris cooked us another awesome braai and they guys all enjoyed some well deserved Maluti Beers. So good in fact that one of the bakkies heading back to Cape Town had a few cases stashed in the back.
There was time for a few last photo's around Chris's place before packing up the van for the long drive home the next morning.
We were aiming to leave by 4 am but I was up at 1 am and dragged Eddie out of bed and we set off on what would turn out to be a bit of a disaster. We were making good time up until Rouxville in the Free State when we had a run in with a cow that had be hit by a vehicle traveling in the opposite direction. A black cow, pitch black sky and a two and a half ton van don't go to well together. All I can say is that we are exteremely lucky, as far as bad scenarios go this turned out pretty well I think. Eddie came off the worst of us with compression fractures to his back. The van is still stuck in the Free State.
Check out the divets in the road where the van touched down after going over the cow.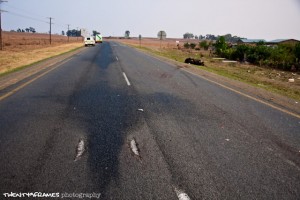 The rest of the guys got a early wake up call with the bad news and drove the 3 hours to our rescue. Loading their rental van, that they were supposed to drop at the airport in Bloemfontein, with as much as possible and after collecting Eddie from the Smithfield hospital set off for Cape Town.
The road works gave us time to get out and take out our frustrations on the road signs, the Karoo gave us some spectacular skies and the end of the long weekend gave us some real idiots to deal with on the roads.
Thanks to Donovan, Graham and Warner for coming to fetch us in the Free State and drive us home instead of flying and also to Graham for letting me ride his spare bike up in Lesotho.