Over the past couple of weeks I have been given the most awesome range of, big KTM, bikes to ride and although, having a KTM 1190 Adventure in my garage has become almost standard, my most recent experiences have compelled me to get back onto my blog and start writing down my thoughts on these bikes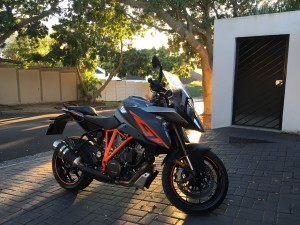 My first introduction to the KTM GT was doing some design work for KTM Cape Town for the local launch of this new model. I'm more an off road guy so I didn't pay too much attention to what this bike really was. I had heard people talking about it and eventually glanced at some of the international press write-ups on the preproduction bike. I remember first thinking this was going to be a tame tourer to replace the KTM990SMT, however, while I was designing invitations to the local launch I downloaded some images of the bike from KTM's website and that's when I started paying attention.
This wasn't the 1190 LC8 motor that I expected, intact this was a toned down version of KTM's insane 1290 Super Duke R. I rode the 1290 Super Duke R once and I must say I was slightly relieved when I gave it back to the shop. The bike was so quick that I always felt my brain was always trying to play catch up to the rest of my body and the bike.
So this toned down version of the Super Duke R, has 173HP, KTM's 2nd generation of the electronic suspension, ABS, traction control, heated grips, a bigger fuel tank, an adjustable touring screen and quick shifter. I left the quick shifter for last, because it's one of those things that I often forgot about when first started riding the bike, but I had to make a concerted effort to train my brain to remember it. I don't use the clutch much when I ride bike but I have this instinctive reaction to shut off the throttle just a little bit when I shift, the beauty of this quick shifter it that, that is no longer necessary. I can compare my feelings about this to when I first discovered Audi's DSG gearbox in the 2nd generation TT, I usually hate things that help you drive and I despised automatics until I discovered the DSG box. The quick shifter does the same for me on this bike, it's brilliant and works better the harder you ride the bike.
Prior to riding the GT, I had been testing the KTM 1290 Super Adventure so I expected a familiar sound and pull from the motor, but I was wrong! KTM have kept their cockpit design on all their big bike very similar, so you can start on a 1050 and move all the way up to the 1290 and still feel at home. When you swing your leg over the GT, you immediately feel at home, but the slightly lower handle bar position and that little stumpy side stand reminded me that this was slightly different from the Adventure Bikes I usually get to ride.
Once you depress the ignition button you are well aware that this is going to be a bit different, even with the stock pipe the 1290 LC8 has a awesome raspy growl that makes you want to blip the throttle in appreciation.
I quickly learnt that I had to adapt my riding style to suite the road characteristics of this bike, it flows so easily into the turns that you quickly realise that you can actually be going much faster. The more I got to ride the GT the more my confidence would grow and I felt comfortable to work on my cornering techniques, knowing that I was always well within the bikes capabilities. After less than a day on the bike I realise that I could quiet easily ride one of these every day.
The acceleration is incredible and it pulls so hard from such low revs that if you will never get bored, just one quick twist of your right hand and you power wheelie whenever you feel the need.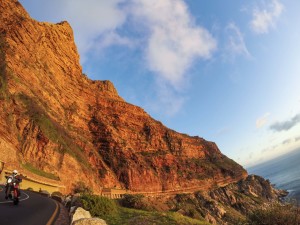 I'm not a big fiddler, when it come to bike setup, as long as the controls are where I want them I'm happy, so I didn't fiddle much with the electronic suspension settings. I rode the bike in Street and Comfort modes and honestly around the city and on the coastal road between Camps Bay and Hout Bay I can't feel the difference.
The brakes were amazing and you can really feel that you have way more stopping power that on any of the Adventure KTM's
This bike was super fun to ride, it inspired confidence and I feel made me a better rider on the road.
The only problem is, that now that I'm back on a 1190 Adventure R it feels like it permanently in Off Road mode… I have become a power addict!