It was another awesome morning on the South Coast and it stayed that for the whole day, the mid morning onshore winds stayed away and there were good conditions throughout the morning for the surfing portion of the Surfer X to run smoothly.
Bronze beach was the call yesterday but it was moved once again, to Umhlanga as there were no nets at Bronze Beach. It was a great venue for the contest, a nice grass lawn for the competitors and spectators to hang out and a good vantage point for the judging.
I had a quick fun session before my heat, but struggled to get any scoring rides once the siren had gone… These east coast guys were managing to get some good scoring rides from the soft conditions and I was soon on the beach enjoying the sun and shooting some pics of the action.
The beach scene here is so different from what we are used to in Cape Town, the warm water makes sure that everyone coming down to the beach is getting involved in some way, reunions in the water, babies copying young ripper, Dylan Lightfoot's warm up routine, it all added up to quiet a scene.
Some how these guys made the waves look a lot better than they were, the camera made them look even better, well that's my story and I'm sticking to it! The standouts of the day were Dylan Lightfoot, winner of the final, Dylan Stewart 2nd, Wihaan Kotze 3rd and Wes O'Driscoll 4th.
There were some interesting activities on the beach, one of the more interesting was hearing the lifeguards, over the loudhailer, telling the children to stop digging holes on the beach after they had managed to drive their jetski's trailer into one, I thought this old bullets ripped torso would make an interesting pick, the guy was more ripped than kids a quarter his age.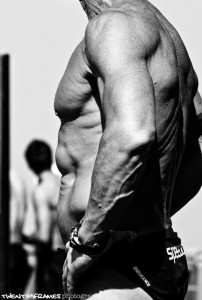 After the contest we went to check out the Wavehouse, but nothing really interesting happening there so it was back down to the south coast for a little braai and get sorted for the MX tomorrow.