The guys at KTM Cape Town have given me a KTM 990 Superduke to ride for the last couple of days, well they said come ride it and I haven't given it back yet.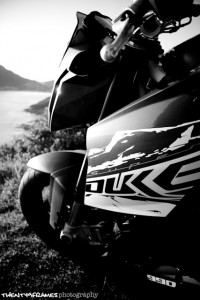 It's been so much fun, it's almost ruined two of my other bikes for me, because this is the ultimate around town scooter, and for riding on the roads this beats my 990 Adventure hands down. It's low nimble and super quick with serious attitude in it's appearance. I've been struggling to stop myself pulling wheelies.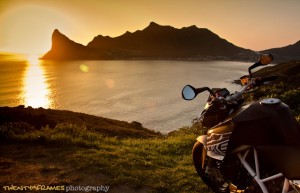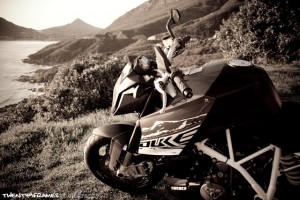 I did a breakfast run with my mate Nick yesterday morning and had the chance to compare it head to head with my Adventure. I then went to Champman's Peak in the evening to take some pics and almost ended up doing the exact route all over again, after I hooked up with 3 guys I met in Hout Bay. Jan, Winston and Riaan either own or have owned KTM's and were on an evening run through to Kommetjie. After noticing the olive beast they invited me to join them. It was super cool to meet such friendly guys that have such a passion for riding.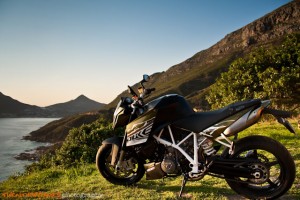 I think the shop wants there bike back so I may have to go collect my scooter… It's a demo so if you into bikes you should go check this bike out.
It's been great fun and I have improved my street riding loads in the last 2 days, bring on the RC8 next week.