With the much anticipated Hondeklip Bay ride approaching, and my many postings of pics of my recent adventure trips, my friend Jakes was frothing to get out and get to grips with his big bike again. Weekends were been filled at an alarming rate so we had to make a tough call and planned a ride for the same day as the Super 14 rugby final. We were going to have to leave early and ride like stink to make sure we were back in time for the 5.30pm kick off.
I met Jakes at his house at 5.30am, we loaded the bikes onto his trailer and headed for Ceres. The source of the chill that had hit Cape Town the previous week was evident on the upper slopes of the Hex River Mountains. Beautiful snow capped mountains lay in wait for us… and so did my summer gloves!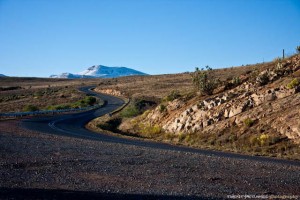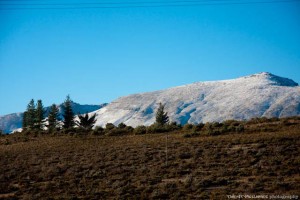 Now Jakes had been to this "Spook" house before, and supposedly had it marked on his GPS, but we still managed to end up getting ourselves lost. We did find some awesome riding and come across this old classic 1949 Ford pickup basking in the Karoo sun. This truck certainly grabbed my attention for some time as many years ago I had build up one of these into a awesome street rod and I caught myself checking out what it would take to get the old beauty back to life.
We came out on the N1 right into the middle of some major road works but decided we would carry on North and refuel in Prince Albert. After getting through the delays and a last ditch effort to find the "Spook" house, we grabbed a handful heading down Prince Albert Road, melting our rear tires all the way to the way to the quaint town of Prince Albert.
A quick refuel and just enough time to send warnings to our better halves that we were in danger of not making it back "quite" as early as we had thought – those gates had slowed us down a lot and Jakes and his small screen 1st generation GPS had found a longer but "faster" route back to Ceres.
Not far out of Prince Albert and we were heading up and up passing German hikers that seemed to miles from any trail or camp, as the road rose it became more and more impressive and steeper and steeper, eventually becoming like a historic gravel version of the famous Alpe d'Huez. The incredible beauty of the valley dropping away below us and the concentration needed to negotiate our way around the hairpin bends had blinded us to the fact that the fast way home seemed to be taking us further and further from our intended destination.
Nearing the bottom of the pass, after traversing the Groot Swartberg Mountains, I passed a sign that pointed left and was marked for the Cango Caves, I remember thinking to myself that it must surely be a huge marketing exercise by the Cango Caves, as in my mind we still at least 200 km's from the Caves…. (after checking my GPS route once I had returned home I realised the sign had been only 10 km's from the Caves.)
It was starting to dawn on us once we reached the R62 that we would be lucky if we got back to the car before the end of the Rugby. Once the roads opened up it was time to warm up the rear tire again.
Re fueling in Ladismith and heading directly into the sun didn't slow us down, it was now becoming a race against the sunset, the temp in Ceres was going to plummet as soon as the sun dipped behind the Dutoitberg Mountains. It seemed like an eternity since we had first gotten on to the Floriskraal Dam Rd and as we came past it again those gates were seeming to be a good option that we had missed out on.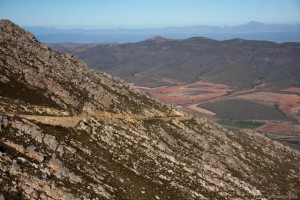 The last 200 km's were flat out heading for Ceres, the last 50 freezing and in the dark, we made it back to the car just in time to catch the last 20 minutes of the rugby on the radio, 770 km's covered on a winters day riding was quite impressive. Jakes and I had learnt a few lessons, mostly that for the Hondeklip baai trip we would need some warmer kit!