DAY 1:
After wanting to do this trip for quite some time and repeated surfing on the site trailriderreports.blogspot.com, I finally got myself together, found a riding partner, mounted my new Garmin Zumo 660 GPS, packed my maps and did a last minute tire change. The goal was to leave Cape Town by 10am on Tuesday 20 April, after the last minute decision to swop out the rear tire, Steve my riding companion was in for two and a set of wheel bearings,we were on the road by 12. As always getting out of town is usually spent on tar, until Darling that is then it was the first on many open gravel roads. The first interesting siting was a woman walking down a deserted country road, her lack of reaction to us was all the more suprising when we came across her car about 300m later highsided on a gravel mound just off the road. The following snaking tire marks indicated to me she had quite a ride after avoiding a puddle in the road.
Our next adventure was up into the mountains just out side Piketberg, a paved mountain pass was too much to refuse even though there was little chance that it would take us to where we were hoping to end up.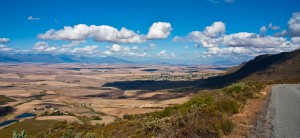 After making our way back to our intended route with a bit of backtracking, we ended up coming down to the top of the Pikeneerskloof pass and heading for Citrusdal.
This is the point where the riding got really spectacular, the afternoon sun, making the the Cederberg mountains light up a golden orange and the twisty road hugging the river all the way from Citrusdal to Clanwilliam. It was a real challenge not to get too carried away on this road, always wondering if there would be a car coming in the opposite direction.
Cheap accomodation a cold beer and secure bike parking was found at the Clanwilliam Hotel, good food and the only hope of some atmosphere was found at Die Kelder.
DAY 2:
It seems as if the winter day light hours are upon us already, so a 9 am start still felt pretty early, we planned breakfast for Krom River in the Cederberg, so it was backtracking to Algeria and over the Uitkyk Pass and on to a wholesome breakfast.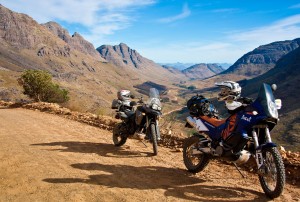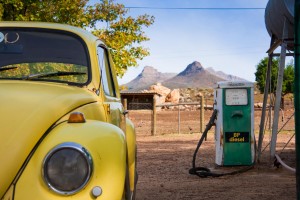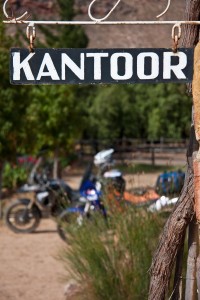 We were now heading into the more remote parts of the Cederberg and the numerous closed gates were a clear indication to us. Awesome rock formations and the amazing orange sandstone plotted our course through the remote village of Esselbank and on to Moravian Mission village of  Wupperthal. No fuel here but lucky for us another group of bikers had planned ahead and contacted the Rev. to supply them with fuel the following day so we managed to relieve him of 10 litres. much later we would be very grateful for those 10 litres.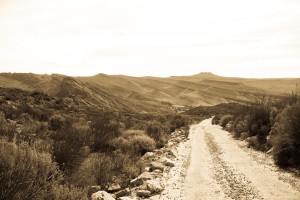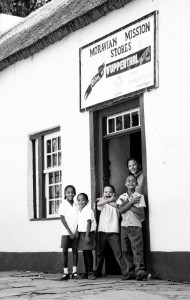 A short distance out of Wupperthal and we turned right up towards the "4X4″ route towards the Doring River and the Calvinia district border (I had previously thought Calvinia was just a town, no wonder I couldn't find certain places on my GPS.) We went through lots of gates all  the while hoping that there would not be water in the river and we would be able to cross. We were in luck and made it across, not a river crossing I would like to attempt if I could not see the big slippery rocks under a flowing stream.Up and out the other side and we were into Calvinia.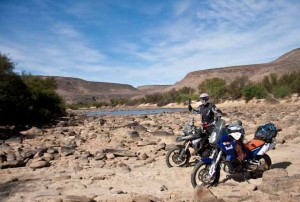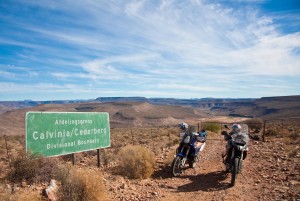 A short while later we came upon this dry pan, Steve knew about it from a previous trip and it was a compulsory stop for some awesome shots and high speed runs. This place was so awesome and I quickly learnt how to save to favourites on the GPS.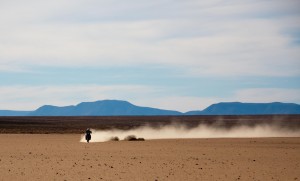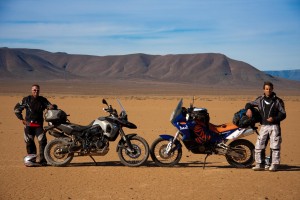 The map I had photocopied for my tank bag was a bit small for these small country roads, we must have taken a wrong turn some where, although I don't remember seeing many roads to turn off on, but by the time we hit the R355 we weren't where we thought we were, but this was an adventure after all so off we went half guessing if we where heading in the right direction. By this time I was starting to wonder when the haunting orange fuel light was going to come on, and when it did come on and we still hadn't establish our exact location I started regretting some of those fuel sapping high speed runs on the dry pan. Steve was starting to get concerned, I had a brave face on, I did however have possession of both the map and GPS. Another good time to learn a feature of the GPS, find the nearest Petrol function, WOW, suddenly relief and knowing where we were, although I thought I was on the right track I would have been very uncertain of taking some of those tracks without the GPS backing me up…. Steve was still unconvinced! About 40 kms form Middelpos, our intended destination, we headed up the escarpment for the first time, it was very unexpected and was a great reward for the concern and apprehension of the previous 2 hours. Gannaga Pass, what a treat!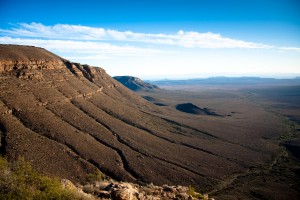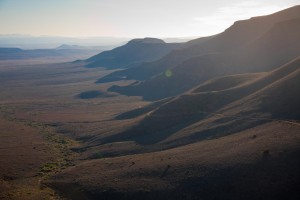 By the time we reached Middelpos the sun was nearly setting, the town seemed to have shut down, not a sole in sight. After sitting outside the hotel for about 5 minutes someone came out, by this time Steve had already decided that there was no way we were staying here for the night. Luckily the owner was kind enough to open up the petrol pump to fill up the KTM and the corner shop to fill up the riders, before we set off in the dark for bustling lights of Calvinia. This was made some what more interesting seeing that earlier in the day I had noticed that my HID headlight was failing to power up, something wrong with the ballast we assumed.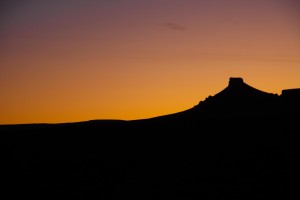 We found a great little B&B with it's own restaurant, most certainly Calvinia's finest dining, and some ice cold and well deserved beers.
DAY 3:
Today was going to be a big day, Steve wanted to get back to Cape Town and I wanted to go down the Ouberg Pass. Today I was going to let the GPS navigate us to Ouberg Pass, after coming in to Calvinia  on a Karoo Highway we were stoked that the GPS sent us out of town on another route and even more stoked when it led us through a farm gate and onto the most fun 50 odd kilometers of jeep track with fun water run-off jumps and lots of gates.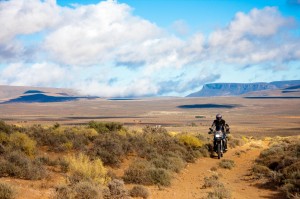 We went back past Middelpos, this time not stopping to see if the town had woken up for the day. Luckily I had plotted the Ouberg Pass on the GPS as it seemed pretty difficult to find, my intention of going down the pass and then heading for fuel in Sutherland was the most likely confusion in finding the Pass as after reaching the Pass and then heading down the escarpment we then had 30 odd kilos of tar back up over the escarpment to get to Sutherland. Nonetheless the views upon reaching the 1380m summit are spectacular, we were also rewarded with amazing clouds to enhance the photographic opportunities.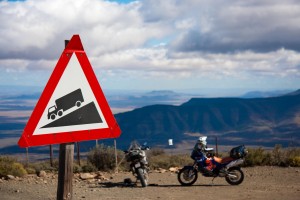 After refueling both bikes and riders in Sutherland, we still had a long way to go to get Steve back to town for his appointment with the Russian Circus, so we hoped onto some of the Karoo Highways and made haste towards Ceres, although these roads are pretty flat and straight, at the speeds we were traveling they were still highly entertaining.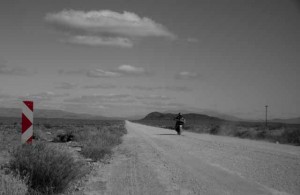 I would still like to spend sometime in Sutherland, I think this is really a 4 or 5 day trip especially if you want to take lots of pictures and after seeing how much great riding there is up in this part of the world, I am already itching to go back.